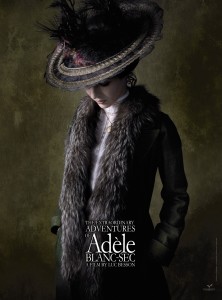 Adele Blanc-Sec (Les aventures extraordinaires d'Adèle Blanc-Sec) is Luc Besson's latest film. While it went on release in his native France a year ago (and has been available on bluray for several months) it is  getting a UK release this month.
The film should be going on release in the UK on 22 April.
In common with most Luc Besson films, the soundtrack is by Eric Serra and is available on iTunes.
So who is Adele Blanc-Sec and what is the film about?
The film is based on the comics by Jacques Tardi who wrote 9 comic books featuring the heroine, so Besson has more than enough material for a sequel or two.. (the closing scene of the film suggests that there might be more to come)
The film takes place in Paris before The Great War, in 1912. While trying out his telepathic powers, professor Espérandieu hatches a 136 million year old pterodactyl egg in the Parisian Museum of Natural History and wreaks havoc on the citizens of Paris. Adèle Blanc-Sec, a journalist, but more like a female Indiana Jones, finds herself involved in all of it after returning from Egypt where she was trying to find the Pharaoh's mummified doctor. She was hoping to revive the mummy with the help of professor Espérandieu in order to save her sister Agathe, who is in a sort of coma following an accident a couple of years earlier.
I'm not sure if the UK release is being dubbed or just subtitled, so I can't comment on that. However, having seen the original French language version of the film I can assure you that Besson fans will be pleased. If nothing else the Paris that Besson created is visually attractive and the costumes and effects are excellent.
Enjoy!
Related articles