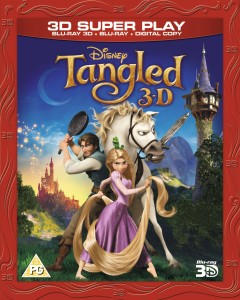 Walt Disney's 50th animated film, Tangled, is coming to bluray, Disney 3D Superplay and DVD on May 23.
Tangled is  complete re-imagining of the Grimm Brothers fairytale Rapunzel. Kidnapped at birth and locked in an imposing tower by the wicked Mother Gothel (Donna Murphy), Rapunzel (Mandy Moore) is a beautiful, feisty teenager with 70 feet of magical, golden hair, who spends her days alone with only an over-protective chameleon called Pascal for company.
Her lonely existence is interrupted when the kingdom's most wanted –and most charming – thief Flynn Rider (Zachary Levi) takes refuge in her tower while being pursued by the authorities and the One-Horse Police Force, Maximus. But it isn't the safe haven he was hoping for as Rapunzel takes him hostage, with the aid of her trusty frying pan!
Realising that Flynn could be her ticket to the outside world, Rapunzel strikes a deal with the handsome bandit and the unlikely duo set off on an action packed adventure  filled with danger, magic, excitement and hair, lots of hair!
Having seen the film one of the my favourite characters isn't even a human. He's a horse!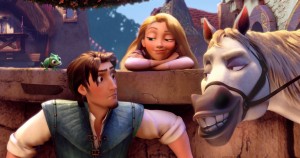 The bluray will have more special features than the DVD, though both releases should be worth getting:
BD Bonus Features
•    Deleted Scenes
–    1.  The Jaunty Moose
–    2.  Chemistry Develops
–    3.  "Vigor The Visionary"
•    Extended Songs
–    "When Will My Life Begin"
–    "Mother Knows Best"
•    Discover Blu-ray 3D™ With Timon & Pumbaa
DVD & BD Bonus Features
•    Original Storybook Openings:
•    50th Animated Feature Countdown