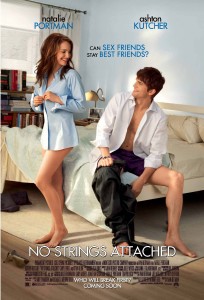 The new Ashton Kutcher and Natalie Portman vehicle  No Strings Attached goes on general release this Friday.
In this comedy, Emma (Natalie Portman) and Adam (Ashton Kutcher) are life-long friends who almost ruin everything by having sex one morning.  In order to protect their friendship, they make a pact to keep their relationship strictly "no strings attached."  "No strings" means no jealousy, no expectations, no fighting, no flowers, no baby voices.  It means they can do whatever they want, whenever they want, in whatever public place they want, as long as they don't fall in love.  The questions become – Can you have sex without love getting in the way?  And can their friendship survive?
While No Strings Attached is probably very enjoyable you can't help but contrast it with Portman's last film – Black Swan, which was a lot darker and received critical acclaim.
I guess we'll find out on Friday!